One more thing... New iPod discovered in iOS 11 Gold Master code?
7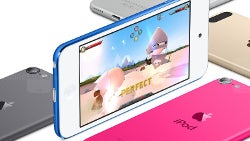 If you've been following in the past couple of days, you are probably well aware that the Gold Master build for iOS 11 was just recently leaked. That's the version that should be the "official" update to be released to all users within the next days.
Of course, snoopers got to digging in the new software and discovered interesting things like animoji (animated emoji, yes), an AirPods 2 namedrop, a new wallpaper, the Face ID menu, and other tidbits. But what wasn't originally revealed was a new iPod.
Today, leakster Benjamin Geskin claims that one of the strings for setup.app within the iOS 11 Gold Master has a line that reads "Unlock your iPod with your face".
So, what this may suggest is that we also have a new iPod underway. The last update to Apple's music player was back in 2015, when we saw the iPod Touch re-packaged with an Apple A8 processor inside. The model before that was released in 2012 and the one before it — in 2010. So, a 2-3 year upgrade cycle is a normal thing for the iPod line.
But it's also probable that Apple has some lines of code in there for future products that it doesn't plan to release just yet. We've seen future-proofing within iOS before (remember the high-resolution icons?) where Apple has software features in place way before introducing the hardware that supports them.
Either way, we'll know tomorrow!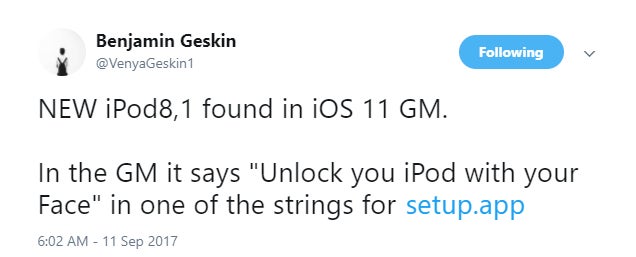 source: @venyageskin1