On last count, 12 000 developers are working on Windows Phone Marketplace
2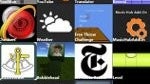 The developers working to make Windows Phone Marketplace a better place for the end consumer are now numbering 12 000 people. That's an astonishing 40% increase over last month, hinting that the stated fears that Windows Phone 7 won't be able to fight its OS foes in the application department are most likely not true on the long run.
The developers who were first to request Windows Phone 7 certification for their applications have already produced hundreds of apps and it's fair to say that with 12 000 developers working on the project, Windows Phone 7's Marketplace will encounter a rapid expand in the coming months.
Just to remind you, the first Windows Phone 7 devices are arriving on November 8th in the States, while the early signs from Europe are that
Microsoft's new OS is up and running.
And now the big question – do you think that Windows Phone 7 will make it to the top? It seems likely that with so many developers Windows Phone Marketplace won't be a place short of apps in the near future. And, that aside, when it comes to apps, it's a common knowledge that it's better to have 500 good apps than 100 000 meaningless ones.
source:
Fierce Developer
Recommended Stories