Older data plans will work with Verizon's Apple iPhone 4?
13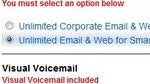 Are you a current Verizon Wireless customer that's still grandfathered to a data plan that's no longer being offered? Well if you are, you might be intrigued to know that it just might work with Big Red's upcoming shiny new Apple iPhone 4.
One of our tipsters recently placed a pre-order for the smartphone, but after reading the long listing of features that are intended to work with the handset, there is a piece of information at the bottom of the page that's going to be great news for some. Specifically, it says that
"if you have an existing smartphone data feature (e.g. former Alltel customer, 150MB plan or a bundled voice & data plan) you can still activate the phone by calling customer service at 1-800-922-0204 upon receipt of the phone & activation, and stay on your existing calling plan."
Granted that you still have to select either the $29.99 or $44.99 smartphone data packages when you place your pre-order online, it doesn't necessarily mean you're going to be placed on it. Meaning, if you're currently paying $15/month for the 150MB data plan, then it'll still work with the handset – but you'll need to call customer service for it to activate correctly. Nevertheless, it'll be interesting to see whether or not customers sitting on even older data plans will be able to transition it to the iPhone 4.
Thanks Jermyn!