Older connector to be used by Apple to allow Lightning headphones to work with USB-C ports
18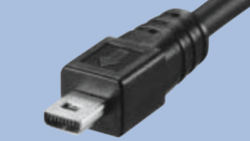 According to reports published today, Apple will be offering new applications for an old plug, the
Ultra Accessory Connector
. This is the small 8-pinned plug that you might find in the box with a Nikon camera. And don't freak out; Apple is not looking to replace the Lightning port just yet. Instead, the tech giant is using its MFi (Made for iPhone) program to set specs and hardware requirements for UAC cables that would be sold to the public. These would include Lightning to UAC, USB-A to UAC, and 3.5mm headset jacks to UAC cables.
The UAC will be used as a go-between (along with the use of a dongle) allowing Lighting headphones to work with a USB Type-C port and vice versa. The connector will allow the headphone to instantly adjust so that it can figure out if it is receiving audio from a USB-C port or a Lightning port; thanks to the use of the UAC, the headphone will be able to make necessary adjustments and work with either one.
Of course, this whole mess could be greatly alleviated if Apple were to replace the Lightning port on its devices with a Type-C USB port. But that would take control over the charging port on the iPhone and iPad out of Apple's hands. Still, the company did switch to the USB-C ports with the 2016 MacBook Pro.
So far, there is no word on when any of these new products will be released. One headphone manufacturer is said to be ready to launch UAC products during the summer. While there could be other uses for the UAC, it looks like the connector will be focused on allowing headsets with one type of plug, to be used on devices that have a different type of port. With the 3.5mm earphone jack disappearing, there is a real need for these products. Families and individuals that employ both iOS and Android handsets will be able to use a UAC connector in order to share headphones.
source:
TheVerge