Official video demonstration of the Samsung Galaxy Tab will keep you yearning for more
5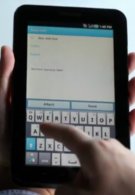 If you haven't gotten your fill of Samsung Galaxy Tab action, then you may want to take the time out to watch the official demonstration video that Samsung produced showing off some of the best aspects of the phone.
Not only will you get a solid look through at the upcoming hardware, but it tastefully manages to show us all some of the various software specific aspects of the Android powered tablet. You can even see how some apps, like the Gmail and calendar apps, are optimize to better use the larger real estate offered by the Galaxy Tab – providing you some valuable productivity time while on the go. Additionally, the web browsing experience isn't going to disappoint since Flash 10.1 is supported which provides for that desktop-like feel.
We even get a look at the useful keyboard docking unit that's made especially for the Tab which will allow you to get some much needed work done at the office or elsewhere. Finally, we can see some of the Tab's calling functions – which are sadly going to be omitted from the US versions.
Samsung Galaxy Tab Specifications
|
Preview
via
Unwired View