Obama predicted the iPhone's triumph after meeting Steve Jobs in 2007: 'this thing is going to be really big'
37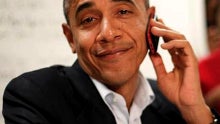 Way back when President Obama was still a Senator from Illinois, he was apparently presented with an original iPhone unit during a private meeting with Apple's late CEO Steve Jobs. The encounter happened in 2007, when Barack Obama was already a presidential hopeful, and a rising star in the Democratic Party, after the famous fiery 2004 speech he gave at its national convention.
He apparently played around with what Steve Jobs presented to him, and after the meeting quipped to his staff "
If it were legal, I would buy a boatload of Apple stock. This thing is going to be really big
." It's not hard to fathom why Obama was so amazed by the first iPhone, as
his BlackBerry attachment
has been widely publicized, and an all-touch phone with huge for the times display must have left a lasting impression on the up-and-coming senator.
This comment is an excerpt straight from David Axelrod's upcoming biography "Believer: My 40 Years in Politics." A long time Obama confidante and campaign manager, Mr Axelrod shares many inside stories from the times when the country's economy and financial system were crumbling all around in 2008, but also stretches to the second reelection, so the book should be an interesting read when it lands, be it only for the iPhone forecast episode.