OPPO's new fast-charging champs are here: 65W SuperVOOC and 30W Wireless VOOC
4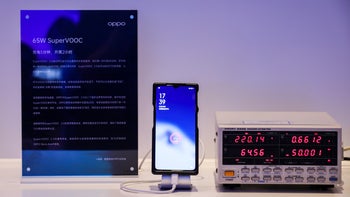 Fast-charging is one of the best features of modern smartphones. It almost completely eliminates battery anxiety because a few hours of extra battery life require only several minutes on the charger. And while Apple finally decided to pair its iPhone Pros with an 18W fast-charging adapter, other companies are offering speeds multiple times faster.
The Chinese company OPPO has been at the forefront of fast-charging technology for a while and today it unveiled the next generations of three of its technologies.
65W SuperVOOC Fast Charge 2.0
Let's begin with OPPO's proudest achievement, the new version of its SuperVOOC fast charging. As you might imagine, at 65W things are starting to become quite extreme. OPPO's engineering team has been hard at work to counter the negative effects that come with the increased power draw:
Building on previous super Flash Charge technology, 65W SuperVOOC 2.0 adopted customized and advanced components, design, and manufacturing process to improve charging efficiency while suppressing heat generation,delivering a superb charging experience. OPPO SuperVOOC 2.0 also adopted the Gallium Nitride (GaN) semiconductors, which effectively shortens charging time and further reduces adapter size.

The SuperVOOC 2.0 not only delivers improved charging performance, but also enhanced safety. OPPO has placed five safety protection measures throughout the adapter, wire and handset ends to ensure maximum safety during charging.
What that means in practical terms is that SuperVOOC 2.0 can fully charge a 4,000mAh battery in 30 minutes. Some people can easily go through two days of use with a 4,000mAh battery on their phone, which means spending about 15 minutes a day charging your phone.
The new technology will make its market debut with the release of OPPO's upcoming smartphone called
Reno
Ace. But wired charging is not the only category where OPPO is hitting top speeds…
30W Wireless VOOC Flash Charge
One drawback of conventional
wireless charging
is that it tends to be quite a bit slower than its wired alternative. Well, with OPPO's Wireless VOOC that's not an issue. While it's using less than half the power of SuperVOOC, the 30W wireless charging technology is still faster than most wired fast-charging solutions currently available. Again, OPPO faced some challenges during development but seems to have found the right solutions:
The 30W Wireless VOOC Flash Charge uses real-time adjustment of the charging process and efficient charging components to ensure a more efficient and safer charging while avoiding overheating.

To enhance safety, OPPO has adopted several hardware designs to avoidover heating, HVDC and a foreign object detection function that ensures charging stops immediately when the charging board detects the intrusion of foreign metal objects.
The 30W VOOC Flash Charge will top up a 4,000mAh battery in 80 minutes which is quite impressive for wireless technology. The new tech supports the QI wireless charging standard and can be used with lower wattage depending on the capabilities of the receiving smartphone.
Additionally, OPPO also upgraded its regular VOOC Flash Charge. The 4th generation of the technology supports up to 30W wired charging. Since the process is more efficient than the wireless counterpart, the numbers are slightly improved. Getting a 4,000mAh battery to 67% (or two-thirds full) will take 30 minutes while getting it all the way up to 100% will take 73 minutes. As with previous generations, OPPO has taken measures to reduce heat generation when the phone is under heavy user loads while plugged in.
With the ever-increasing capacity of smartphone batteries, technologies like OPPO's VOOC will ensure that we won't have to wait for ages before we can get back to Insta… ahem, doing important work-related tasks. The company's efforts will give a good nudge to the competition to keep innovating as well, which is great news for us the consumers.