OMG! Text messaging turns 20 on Monday
18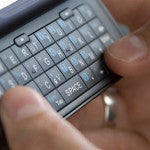 One of the most used features on the modern smartphone, text messaging, turns
20 years old
on Monday. It was an auspicious beginning for the service on December 3rd 1992 when a 22-year old engineer in the U.K. named Neil Papworth tapped out "Merry Christmas" on his home computer to Vodafone's Richard Jarvis. Jarvis received the message on his Orbitel 901 mobile phone, but could not respond since the technology did not exist at the time. Two years later, Nokia debuted the feature on its first mobile handset.
1 billion texts per month
being transmitted in the U.K. alone by February 2001, texts were bringing in £100m ($160 million USD) monthly. By 2008, Nielsen said that the average mobile phone user in the U.S, was receiving more texts (357) than phone calls (204) each month.
Soon, a whole new shortcut language developed, and widely used shortcuts like
LOL
and
OMG
made it into the Oxford English Dictionary. This sign of widespread acceptance is usually seen near a peak and text messaging appears to be on the decline in some areas. According to Finnish based operator Sonera, the number of texts sent through its network on Christmas Eve declined from 10.9 million in 2010 to 8.5 million in 2011. Messages on Christmas Day in Hong Kong dropped 14%. In other countries like Spain, the Netherlands, and Australia, usage has been declining. Some have turned to alternatives that send messages over data networks like BlackBerry Messenger (BBM) and WhatsApp. Benedict Evans, telecoms analyst at Enders Analysis has counted 25 such free messaging services with a combined total of 2.5 billion users. He says ten of them have over 100 million users and that doesn't include the 60 million signed up for BBM. Even when your cellular service is out, these services still can get your message to the recipient.
Texting has increased carrier's coffers by $500 billion and is estimated to bring in another $1 trillion through 2019. Eventually, the carriers will adjust pricing, according to Evans who says that it is more expensive for mobile operators to send data than voice. Whatever system is used to transmit short messages, be it texts over data pipelines or texts over voice networks, short messaging has come a long way and still has a long future ahead.
source:
Guardian