Nvidia Tegra 4 based devices will start getting announced this quarter
7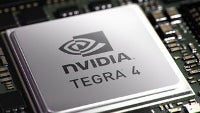 Nvidia's Tegra chip with its focus on graphics made it big on smartphones a couple of years ago when the Tegra 2 was on virtually every flagship released, but since Qualcomm introduced its 28nm Snapdragon chips it leaves little space for Nvidia's processors.
Nvidia obviously wants to change that and to do so it has long ago introduced its extremely graphics intensive Tegra 4 chip. Good news is it will finally announce new devices with the chip this quarter.
"Outside of phones, where we see these new computing devices becoming like entry-level PCs, performance matters,"
Nvidia chief executive Jen-Hsun Huang said.
One device we already know will come with the new Tegra 4 is the Project Shield gaming console. HP has also announced a couple of tablets and all-in-ones, and ZTE and Toshiba have also committed to the platform. The Tegra 4 takes pride in its quad-core Cortex A15 setup with a whopping 72 graphics cores. The graphical performance should definitely be console like and unlike anything we've seen on tablets so far.
Nvidia is also preparing a mainstream version of its chip, the Tegra 4i. Devices with the Tegra 4i should start arriving in the second half of 2013. This is a quad-core Cortex A9-based architecture with a fifth battery saving core and 60 custom GPU cores. As a bonus with it, you get an integrated i500 LTE modem.
source:
Tom's Hardware
Kepler Mobile demo from VentureBeat on Vimeo.
Recommended Stories