Nuance acquires Vlingo to boost mobile voice products
8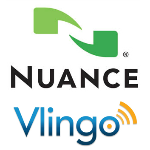 Nuance has decided to purchase a competitor that it once sued: Vlingo. As you would expect when first reading this story, the tech media has all jumped on the Siri buzzword once again, because apparently Nuance isn't allowed to be a company separate from Siri anymore. Of course, the truth is that while Siri's speech recognition is powered by Nuance, the company is not owned by Apple, and Nuance has quite a few other voice-powered apps, which are not related to Siri.
The Senior VP and General Manager of Nuance Mobile, Mike Thompson, said that there is a $5 billion opportunity for voice powered software, and with the introduction of Siri and Dragon Go!, Nuance has realized that "virtually every mobile and consumer electronics company on the planet is looking for ways to integrate natural, conversational voice interactions into their mobile products, applications, and services." To that end, Nuance had agreed to purchase Vlingo in an effort to accelerate its "pace of innovation" in speech recognition and voice powered products.
While it is likely that technology acquired through Vlingo by Nuance in this purchase will find its way into Siri, there is also a very good likelihood that it will be used to bolster Nuance's proprietary software like Dragon Go! on the iPhone, FlexT9 on Android, Dragon for Email on BlackBerry, as well as integrated navigation and in-car systems and healthcare products that Nuance powers.
The terms of the deal have not yet been disclosed.