Now it's Samsung's turn to experience a lost mojo
71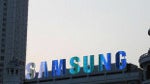 A high tech company sees its once booming stock drop, wiping out
$20 billion
of market value in a week as questions are raised about the continued success of its hugely successful flagship smartphone. If you think that we are talking about Apple, you are dead wrong. The company involved here is Korean based Samsung which has seen its stock drop amongst a number of analyst downgrades.
Woori Investment & Securities, one of the largest investment houses in South Korea, was the first to cut its earnings estimates and stock price forecast back on June 5th. Since then, a number of Wall Street heavyweights have followed suit with Morgan Stanley, JP Morgan and Goldman Sachs all reducing their ratings on Samsung's shares. Sales estimates for the
Samsung Galaxy S4
were reduced by as much as
30%
as investors starting worrying about lower profits for Samsung's mobile division, the largest contributor to the parent firm's bottom line.
Even though the Samsung Galaxy S4
sold 10 million units in the first month
after launch, the phone is said by the Street to lack a "wow-factor" and there are worries about slowing smartphone sales in Europe and Asia. Analysts now see Samsung shipping 7 million units of its Android flagship phone a month instead of the previously expected 10 million phones. Bank Of America Merrill Lynch has cut its annual estimate of Samsung Galaxy S4 sales by 5 million units to 65 million. That cut represents
$1 billion of estimated operating profit
zapped from Samsung's bottom line.
The top Samsung Mobile executive, J.K. Shin, responded to this by saying, "
S4 sales are solid. It's just that some analysts had higher expectations and then they lowered them
." Merrill still expects record quarterly smartphone profits thanks to Samsung's strength in other smartphone sectors. Those bullish on the Korean manufacturer are also waiting to see the Samsung Galaxy Note III which should have close to a 6 inch screen with 1080 x 1920 resolution. Will the phablet be enough to perk up Sammy's stock? The shares hit a 6 month low on Thursday before rebounding slightly on Friday.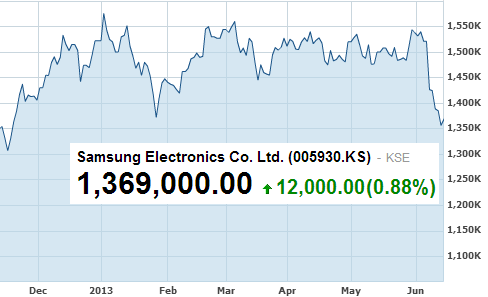 Samsung's shares hit a 6 month low on Thursday
source:
Reuters