On the cusp of the Note 10's release, Samsung touts a 'Decade of Galaxy Innovation'
18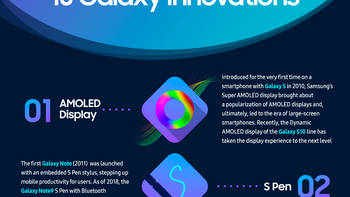 Samsung just
outed
an infographic that depicts the milestone achievements it has brought to the smartphone industry over ten years in the market. Called "10 for 10: Highlights from a Decade of Galaxy Innovation," the post is undoubtedly aimed to stir excitement about the next edition of the Note series, just like there was an anniversary Galaxy S10 trio before it.
Funny enough, Samsung puts the S Pen at second place in its achievement roster, right after its renowned AMOLED display panel that it basically pioneered and now everyone is using in their flagship phones, and waxes poetic about the venerable stylus:
First featured on: the Galaxy Note (2011)

Since its launch, Samsung's category-defining Galaxy Note line has introduced a variety of intuitive tools designed to help users maximize their productivity. Chief among these is the devices' signature stylus: the S Pen.

Each new addition to the Note family adds convenient capabilities to this handy feature; for example, the S Pen that debuted with Note devices starting with the Galaxy Note7 harnesses electromagnetic resonance (EMR) technology, keeping the S Pen and its device connected without relying on static electricity – meaning the functionality of the S Pen is unaffected by water.

Furthermore, while the Galaxy Note3's S Pen was 1.6mm in diameter, the S Pen of last year's Galaxy Note9 is just 0.7mm in diameter, and while the debut Galaxy Note's S Pen supported a pressure level of 256, the Galaxy Note9's S Pen supports a pressure level of 4096, providing users with a natural writing experience just like that of a real pen.

The S Pen equipping the Galaxy Note9 is also the most versatile yet, thanks to its Bluetooth Low-Energy (BLE) support, customizable clicks, and deeper integration with fan-favorite Note features.
Needless to say, the new S Pen is expected to be greatly improved again, with gesture navigation, 4096 pressure levels, latency of less than 70 ms, animated messaging and other extra perks that aim to make it an even more indispensable tool attached to your Note 10.