North Korea's "Arirang" smartphone is indeed a copy of a cheap Chinese brand
21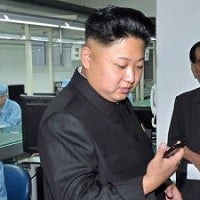 It is one thing to make a cheap knock-off of an established brand, but making a copy of an ultra-low-end device just does not make sense, unless you are North Korea. Last summer, we shared the good word about
North Korea's Arirang AS1201
smartphone, a "home grown" triumph of the technological prowess of the DPRK.
The device is indeed a copy of the Chinese branded Uniscope U1201. Both are Android powered handsets. The Chinese brand costs about $100 in Beijing which may seem like a deal, even for a low end device, but after you see the specs you will still probably think otherwise.
The Uniscope U1201 is a dual-SIM, 3G device with 4GB of expandable storage, 768MB of RAM, a 540x960 "4.1-4.9-inches" display (we will say 4.3-inches), 8MP camera and a 1600mAh battery. The CPU is a dual-core, Spreadtrum chip at "1.2-1.4GHz."
It is a safe bet that the North Korean counterpart has similar, or even lesser specifications than the Uniscope. There is still speculation that the device is made in China and reboxed in North Korea. Then again, we assume nothing. We will not even assert that the AS1201 has cellular connectivity, it is North Korea after all. We shared information about a
tablet offered up in the DPRK
that did not even have Wi-Fi connectivity, because, who needs the internet when you got the dear leader?
Speaking of which, the AS1201 is certainly featuring a vast array of approved apps and media from the dear leader. No doubt Google Play is no where to be found, but it is not out of the realm of possibility there is some type of basketball app featuring Dennis Rodman included with the device.
source:
GSM Insider