Nokia's research arm working on Superhydrophobic coating for its handsets
16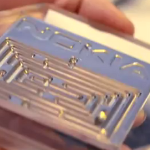 Those
Poindexters at Nokia Research
are working on a Superhydrophobic coating for the company's handsets. The coating is based on the nano-technology found in lotus leaves. With a contact angle of about 180 degrees, liquids will turn into drops that seem to slide right off a surface. The process is similar to how a hydrophobic Teflon coating works, but with the Superhydrophobic coating, there is a layer of air that traps the liquid and keeps it from touching the surface.
The Nokia Research team has applied the coating to a
Nokia Lumia 710
and watching the video, you can see how well it works. The one problem is making sure that the nanostructure can survive the daily wear and tear of smartphone use. Nokia Research said it is close to perfecting a Superhydrophobic coating that will last on the surface of a phone.
While the Superhydrophobic coating won't let you go swimming with your phone, it will let you drop it into your morning cup of Joe
and still survive
. It will also keep your phone clean of those disturbing fingerprints and will also cut down on reflections. The one thing that Nokia hasn't been able to replicate in the lab is the lotus leaf's ability to repair itself. If the crew at Nokia Research figures that out, you can just imagine the implications.
source:
Nokia
via
WMPoweruser