Nokia's design chief shares the inspiration behind the Lumia 620
17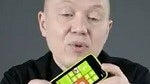 If you read and watched our review of the Nokia Lumia 620, you saw that we were pretty impressed with the overall form factor of the hardware and Nokia experience apps that come with all Nokia Windows Phone devices. While it is facing stiff competition in its price segment, we had no major complaints against the device.
The Lumia 620 is not available in the US, but it is available in Canada, Mexico Europe and other parts of the world. It is a lower-mid-level smartphone, but features the common amenities of higher-end devices, like NFC and a front-facing camera, but with a much lower price tag.
A Lumia 620 runs just $250 (CAD) contract free on Telus. In the UK, a SIM-free 620 is £219. The device is a little smaller, easier to use with one hand, and relies on Nokia's penchant for offering ways to personalize the handset where the operating system will not. The back plate of the device comes in multiple colors, and because it is a Nokia, the Nokia experience apps of HERE Drive, City Lens and Nokia Music add to the allure.
The artistic element is interesting though, and Marko Ahtisaari, Nokia's chief of product design, shares his perspective of the Lumia 620. As an affordable option, the Lumia 620 cuts few corners.
source:
WPCentral