Nokia volleys the X3 Touch and Type for those who "just want a phone"
3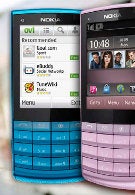 You may have thought that you've already seen it all of what the
Nokia X3
has to offer, but guess what – Espoo is here to surprise you with a new reincarnation of the music-centric phone – the Nokia X3 Touch and Type.
In an attempt to combine the best of both worlds, Nokia has provided the X3 Touch and Type – an otherwise normal-looking 12-key candybar – with a
2.4
-inch touch-sensitive screen with QVGA resolution. Ha, now we can see the total confusion in their competitors' eyes! Unfortunately, there's no info right now whether the screen is resistive or capacitive.
Witty jokes aside, the Nokia X3 Touch and Type (or X3-02, for shorter) does pack a decent mix of features including Wi-Fi 802.11 b/g/n, 3G, 5-megapixel camera and a 3.5mm jack. The new X3 will be running Series 40 with touch capabilities (which we hope won't be limited), obviously.
Finally, we've got to hand it to Nokia for crafting such a slim device (only 9.6mm thick) and making sure its build quality wouldn't make you think twice about it with a brushed aluminum back cover.
The Nokia X3 Touch and Type will become available for all those users who "just want a phone" (quote from the video below) sometime in the third quarter, at an approximate price of
EUR 125
, excluding taxes and subsidies. It will be available in 5 different colors: White Silver, Dark Metal, Petrol Blue, Pink, Lilac.
Nokia X3 Touch and Type Specifications
source:
Nokia
Thanks to everyone who brought this in!