Nokia supports edible tech, bids you a happy Easter with #Chokia
5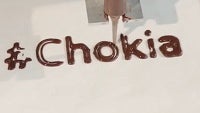 One of the things we got to see in action at Microsoft Build 2014 was 3-D printing in action. While that integration is not quite there yet with Windows Phone, Nokia is still choosing the innovative route by fabricating edible tech thanks to 3-D printing tech.
Easter Sunday is coming up too, so Nokia took the 3-D printing to worthy task, chocolate. Who doesn't love chocolate?
#Chokia is the latest in Nokia's 3-D printing research, bringing it to a chocolatier, Mark Jones, to produce the Nokia logo via a 3-D printer that uses chocolate as its "ink." That not so easy a task since the chocolate needs to be mixed correctly and cannot be too hot, or it may not take the intended form, and it cannot be too cold, lest it not print anything at all and the nozzle gets clogged.
As Nokia says at the beginning of its Easter greetings video below, customization and personal expression, along with innovation are central to the company's line of thinking. Hence the need to print things in chocolate. Instead of chocolate Easter bunnies, however, you get a chocolate "Nokia."
source:
Nokia
(YouTube)