Nokia suggests it will be 1st to WP8, maybe?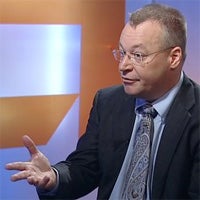 Nokia CEO Stephen Elop spoke to analysts today about a number of pertinent subjects surrounding Nokia. From the company's reports of huge losses to the lack of upgrade options for current Lumia owners, Elop was asked a number of difficult questions that he seemed to mostly dodge around.
When asked if Nokia would be the creator of the first Windows Phone 8 handset, Elop only pointed out that Windows Phone 8 has been demoed on Nokia's hardware and that the company as a "close relationship" with Microsoft. He described that relationship as "unlike what anyone else has with Microsoft," but never directly answered the question.
While Windows Phone has slowly gained momentum and has celebrated a number of victories and milestones, there doesn't seem to be any other manufacturers behind Windows Phone in the way that Nokia is, so it is odd that Nokia still isn't jumping on and promoting the opportunity to be the first WP8 handset.
When asked about rewarding early Lumia adopters with an upgrade to a WP8 handsets, Elop once again danced around the question and simply reiterated that WP7 phones would get some WP8 features such as the start screen and live tiles and then insinuated that current Lumia device could see continued price cuts as we move closer to the launch of Windows Phone 8.
Finally, Elop denied allegations that Windows Phone would be struggling with fragmentation issues by saying that over 60% of Android devices are 3 versions older than the current iteration, yet they continue to sell well.