Nokia releases 4 new 808 PureView promo videos
11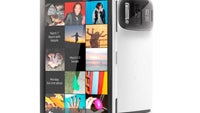 If the Nokia 808 PureView was one of the things at MWC that got you exited, you'll be happy to see the four new promotional videos Nokia has released showcasing the Nokia PureView 808's photo features. While
we did confirm that this particular device wouldn't be making it to the U.S.
, Nokia is planning on bringing its PureView technology to its Windows Phone offerings, so it is great to have an opportunity to see what it can do.
Get the professional touch
"Give your photos a sharper perspective or special effect with the PureView's creative controls. Quickly shoot at optimum settings for close-ups, landscapes or night shots, or play with the creative modes to make your images really stand out.
"
How good can 5MP be?
"It's not about the size of the pixels, it's what you do with them. PureView packs the goodness of 6 pixels into 1 for sharp, clear 5 megapixel photos that are ready to share.
"
Zoom, zoom and zoom again
"Get closer to the action. Take a picture, then zoom into the image up to three times with no loss of detail. Shoot in Full HD 1080p video and zoom into the action four times, or choose Full HD 360p mode and zoom in 12 times.
"
Don't be afraid of the dark
Never miss the real story. The Carl Zeiss lens and 41 megapixel image sensor on a Nokia 808 PureView make the most of the available light so you don't have to give it a moment's thought.
source:
Daily Mobile