Nokia quickly gaining traction among WP gamers: captures nearly 50% of second-gen device market
13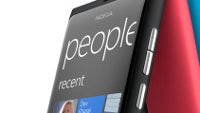 We don't have the official
Nokia Windows Phone sales
numbers just yet, but given the huge gaming audience over at Occasional Gamer and the data they have about Windows Phone devices, we can draw a relatively accurate picture of the platform landscape. Judging by that data, turns out that the Nokia Lumia 800 is crushing it with sales and is a huge factor of why Nokia captured nearly
half of all second generation Windows Phone 7 devices
.
To be perfectly correct, the exact share of Nokia stands at 45%, trailed closely by HTC which has 40% of the market thanks to a popular HTC Radar. Interestingly, Samsung holds only 12% of second-gen handsets, with the remainder scattered across phone makers. We should stress that this represents only the second wave of Windows Phone devices, released this year, and not last year's releases which are still more popular.
If we count all Windows Phone handsets, the picture changes radically -
HTC
commands the market with 55%, followed by Samsung with 28%, and LG with 12%.
Counting all devices, Nokia's share stands at only 4%, but it's growing fast. Look forward to Nokia publishing its results on Thursday when we expect to have some official sales data.