Nokia presents the figures behind mobile gaming with an infographic
12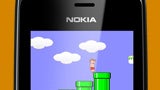 Remember Snake? Well, who doesn't? It was one of the very first games one could play on a cell phone, and along with other titles, it paved the way for what has now become a multi-million dollar industry of mobile gaming. Nowadays, it is mainly smartphones and tablets that developers make games for, but some feature phones can also be used to waste some time by playing Angry Birds. The Nokia Asha touch series, for example, come with 40 free games, courtesy of EA, and additional titles from popular developers are also available for download.
To make the world aware of the Asha phones' gaming credentials, Nokia has put together an infographic presenting some statistics about mobile games and the people who play them. Unsurprisingly, guys are the ones who enjoy games on their phones the most, but in some markets, ladies don't fall far behind. It is estimated that feature phone users spend an average of 4.7 hours a month gaming. Furthermore, games are the most popular download category in the Nokia store, and popular titles have been downloaded millions of times already.
More facts about mobile gaming are available in the infographic below, so don't hesitate to check it out if you are interested.
source:
Nokia