Nokia is slated to talk about developing for Windows Phone at AT&T's CES developer conference
2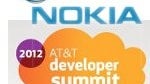 By now, we have a good indication that
Nokia is planning on something big for AT&T
, which is evident by the numerous leaks of the
Nokia Lumia 900 (Ace)
we've been seeing in the
last week
. Furthering the notion that
AT&T and Nokia
are about to embark on a newfound relationship, the Finnish company is actually slated to be a part of AT&T's upcoming developer summit at CES.
Interestingly enough, Nokia will be hosting a session that focuses around
developing Windows Phone apps
– top ones actually, as opposed to something that's watered down. Specifically, Nokia's presence is going to happen on Monday, January 9th from 2:30 PM to 3:15PM at the Palm's Casino Resort where the conference is being held. From the sound of it all, Nokia will be talking about the following:
Nokia: Building a Top Windows Phone Application – 2:30 – 3:15Mobile devices and applications have become a natural extension of their users, and as such, consumers now demand showcase experiences from the apps they use on a daily basis. Have you ever wondered what the secret sauce is that differentiates typical apps from breakout successes that provide truly unique experiences? Does your application exhibit "wow factor" functionality that users can't seem to live without and show off proudly to their friends and family? The Windows Phone Mango platform allows developers to easily unlock the full potential of their product. Showcase apps take full advantage of these unique capabilities by leveraging Live Tiles, deep linking, OS integration, localization, and background processing. When used in conjunction with a well thought-out application design and the Metro UI design language, end-users are left with a satisfying experience that just feels right. When finished, you will have gained pragmatic guidance based on real-life examples on how to create a true showcase application.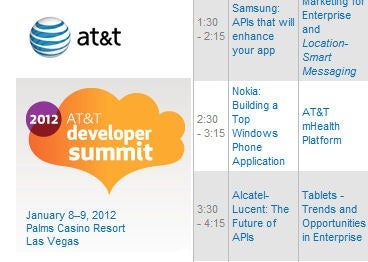 All in all, Nokia's presence at this AT&T summit does indicate that the two are
more than likely thinking big
, and of course, all eyes are pointing on that snazzy Nokia Lumia 900 at this point. This is clearly concrete evidence that show their commitment to one another, so we'll be expecting to hear more in the coming days around it.
via
Neowin
&
WMPoweruser