Nokia demonstrates Mail for Exchange for its Series 40 dumbphones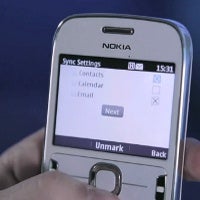 Nokia has fallen back to being the world's second-biggest phone maker for a good reason, but it's dumbphone division is continuing to sell relatively well across the globe. It's tens of millions of handsets per quarter, and adding
support for Mail for Exchange
could turn out to be a huge deal for those using cheaper Nokia devices.
What you'll see in the video demonstration below is still only a beta version of the service that will roll out in June. The first devices supporting the standard are the
Nokia Asha 302 and 303
.
Microsoft's Mail for Exchange is a corporate solution allowing employess within a company to use email, calendar and other functions in a safe environment, and by now was considered to be a smartphone asset. So far, Mail for Exchange supports English only, but 15 more languages will be added in the future.
Now, this is a welcome addition, but it seems that in a world where Android smartphones from the big phone makers like Samsung could be had for as low as $100 off contract, it seems too little, too late.