Nokia appoints Rajeev Suri as CEO, outlines three-part strategy
37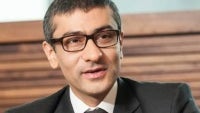 After Microsoft successfully purchasedits handset business, Nokia announced Rajeev Suri as the company's new Chief Executive Officer. Suri is a 46-year old electronics and telecom engineer whohas been on top of Nokia's mobile network unit since 2009. In thepast, he accomplished a successful turnaround of Nokia's Solutionsand Networks division which was left in shambles after merging withSiemens's network unit back in 2006.
Rajeev Suri commented: "Withour three strong businesses - Networks, HERE and Technologies - andposition as one of the world's largest software companies, we arewell placed to meet our goal to be a leader in the technologies for aworld where everybody and everything is connected." The CEOalso elaborated on the company's three-part strategy for growth.Nokia's Networks business, which serves most of the world'slargest 100 operators, will invest in new products and services. Thecompany's HERE arm will target technology for connected cars,cloud services for personal mobility, wearables and special purposedevices, and location-based analytics. Finally, Nokia's Technologiesbusiness will focus on licensing and exploring "breakthroughinnovations".
At present, Nokia will embark on anapproximately $6.9 billion (5 billion EUR) capital structureoptimization program, which involves paying off dividends toshareholders, repurchasing shares, reducing debt, and other financialefforts.