Nokia accidentally leaks an international white Lumia 900?
6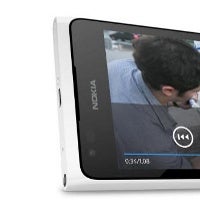 Yesterday, Nokia broke the news about a brand new
snowy white version of its first Windows Phone handset
, the Nokia Lumia 800. The company bragged about it on its official blog, but also on Facebook. The picture it posted on Facebook is of a white handset, but - interestingly - it's obviously not the Lumia 800. Actually, chances are,
it's the Nokia Lumia 900
.
How do we know? Easy - the Lumia 800 doesn't have a front facing camera, while the 900 has it and the handset on the picture has a front snapper as well. So unless Nokia is planning on bringing a modified Nokia Lumia 800 with a
front-facing camera
, we're looking at the white Lumia 900.
Now, there's more spice to that leak than just the fact that it shows a white Lumia 900 - it's a white
Lumia 900 without AT&T branding
. That's important because it hints that the phone could come to countries other than the United States. Maybe hardware-wise it could differ, as it wouldn't make sense to launch it with LTE radios in Europe where countries haven't yet adopted the 4G standard widely. So there you have it, what are your suggestions - is that the Lumia 900?