Nokia Series 40 phones: over 1.5 billion sold
8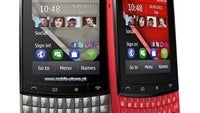 Today,
Nokia proudly announced that it has sold its 1.5 billionth Series 40 phone
. The handset – a
Nokia Asha 303
, was purchased in the city of São Paulo, Brazil, by the 21-year-old Mayara Rodrigues.
Now, how has Nokia managed to reach such an astronomical sales figure, you ask? Well, The S40 platform has been around for quite a while now. The first phone running it was the Nokia 7110, also known as the "banana phone" from the Matrix, which made its debut way back in 1999. And despite the increasing popularity of smartphones, Nokia believes that its S40 phones are not going extinct anytime soon. In fact, Mary McDowell, executive VP of Nokia's mobile phone division, expects for another billion of them to be sold over the forthcoming years.
An interesting fact about the Series 40 platform is that while running on Nokia's low end handsets, it also powers the company's luxury lineup under the Vertu brand, the cheapest of which retail for a four-digit figure. It is also surprising that nearly half of those 1.5 billion Nokia S40 phones, 675 million, to be exact, are still in use throughout the world, with 12 new handsets joining them every second. And just because they are feature phones, that doesn't mean that they are unable to run apps. On the contrary, about 3.7 million app downloads are being registered on S40 phones every day, according to Nokia.