Nokia Lumia 800 spends three-and-a-half months lost in a lake, still works
21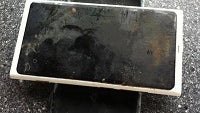 This is a story that if true, is simply remarkable. Roger Nilsson's
Nokia Lumia 800
went for a swim a few months ago in a lake somewhere in Sweden. The circumstances of the loss are not immediately known, but it was apparently found more than three months later, lodged between a couple of rocks.
Now for any non-water-resistant device to spend any amount of time under water, let alone three months, it usually equals a death knell for said equipment. However, Roger cleaned the algae off the Lumia, dried it out, and charged it up.
He claims that the device works with no apparent issues. The battery lasts for a couple days. Frankly, we are impressed that he did not blow a bunch of fuses or start a meltdown just by plugging the thing in. We are equally impressed that the Lumia 800 started up and appeared to work normally. That is not a bad testament in this case.
source:
Roger Nilsson
(Facebook) via
GSMArena