Nokia Lumia 800 may get DLNA support
2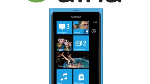 It's been done by other manufacturers and it seems likely that Nokia will be doing it too: bringing DLNA support to the
Nokia Lumia 800
via an app from the Windows Phone Marketplace. This is still a rumor at this point, and possibly not even a very well sourced rumor, but still one that seems pretty believable.
DLNA is one of the top notch features for electronics these days. It is really just a compatibility standard set forth by the Digital Living Network Alliance, so all of your media-filled devices can play well together on your home network. This means being able to share music or video across your computer, mobile devices, TV and stereo. Luckily, even if a device doesn't come with the protocols baked in, they can be added later, and this seems like the plan for the Nokia Lumia 800.
The good team of MobileTechWorld did some digging and found that the requisite files to make DLNA work already exist on the Lumia 800, it's just missing the app to run it. There has been a "confirmation" of sorts as well, because a Nokia Care rep essentially said that DLNA support would be coming through a Marketplace app, but of course care reps aren't known for their accurate inside information on these things.
source:
WPCentral
Recommended Stories