Nokia Android phone reportedly still "full steam ahead"
72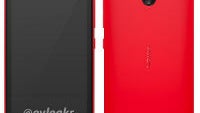 Last month, Evleaks tweeted a picture (which we must point out is
highly photoshopped
) of the Nokia "
Normandy
", which was a codename that no one was quite sure what to make of. The obvious question is the one that Evleaks posted with the picture: "Asha or Lumia", but surprisingly the answer might be Android.
A new report from
The Verge
is saying that not only is project Normandy the codename for Nokia's Android device, but that the phone is still "full steam ahead". The device is claimed to be a low-end Android device from Nokia that will be using a "forked" version of Android, and would not be using Google Play services. Nokia has been planning the Normandy for a 2014 release. The question of course is what to expect from this device now that the Microsoft purchase is also"full steam ahead".
It seems very unlikely that Microsoft would allow the release of an Android device from its newly acquired hardware division; so, unless Nokia is planning to push out the device before the deal is expected to finalize, which could be very soon. If the device hits the market, it is expected to be more akin to Nokia's Asha lineup than even the low-end Lumia devices.