Nielsen report shows US smartphone user has 9 more apps than last year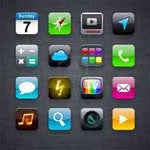 Research firm Nielsen Group surveyed US smartphone users and found that this year the average smartphone user has 41 apps installed on their smart phone, up from 32 last year. That's a 28% increase in just one year. The study went on to cite the smartphone adoption rate had increased significantly year over year as well. Last year they found that 38 percent of mobile phone users had a smartphone, and that number skyrocketed to 50 percent this year.
We hear it all the time on TV, the radio, and in print media, "there's an app for that." It seems year after year, people are grabbing more and more apps. While it's no surprise the number of apps installed continues to rise as the number of available apps rises, it's interesting to see the rapid movement of users from a traditional mobile phone up to a smart phone.
How many apps do you have? Have you seen the number of apps you have installed increase over the last year?
source:
TheNextWeb