Nexus 7 vs iPad mini 2 vs Kindle Fire HDX 7 display comparison puts Apple's tablet last
19

In terms of color accuracy, though, it represents the smallest color gamut range of the three, and also has the highest mirror reflection ratio, which means it will be the worse to use under direct light. The average reflection on all three slates was pretty good, though, making them fairly suitable for outdoor usage. The Retina Display iPad mini showed lowest peak brightness, though, and comparatively weak contrast rating at high ambient light levels.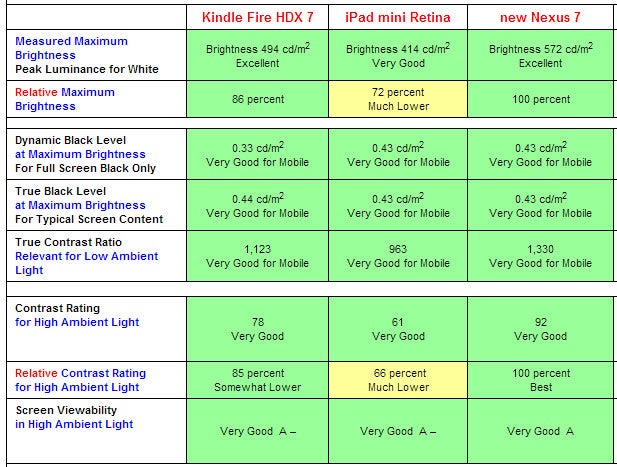 The iPad mini 2 with Retina Display is rumored to ship with a variety of panels,
made by LG, Samsung and Sharp
, since Sharp's
IGZO
tech can't churn out enough yield, so the results might vary in the next batch of iPad minis that arrives from the assembler. Here's the rather lengthy, but telling conclusion after the professional display quality measurement equipment has spoken:
Even more impressive is that the Kindle Fire HDX 7 and new Google Nexus 7 displays also deliver a full 100 percent Color Gamut, with color accuracy and picture quality that is probably better than most HDTVs, laptops, and monitors...
The
iPad mini with Retina Display
unfortunately comes in with a distant 3rd place finish behind the innovative displays on the Kindle Fire HDX 7 and new Nexus 7 because it still has the same small 63 percent Color Gamut as the original iPad mini and even older iPad 2. That is inexcusable for a current generation premium Tablet.
The big differences in Color Gamut between the Kindle Fire HDX 7 and Nexus 7 and the much smaller 63 percent Gamut in the iPad mini Retina Display were quite obvious and easy to see in the side-by-side Viewing Tests. This all appears to be due to incredibly poor planning. Instead of moving up to the higher performance (and cost) Low Temperature Poly Silicon LCDs, Apple chose to continue gambling on IGZO, which has resulted in both production shortages and inferior products.