Nexus 7 ends up in most Holiday shopping lists, followed by iPad and iPad Mini
12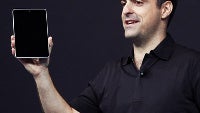 It's almost time for the Christmas tree, gifts and all of that beautiful family atmosphere of the Holiday season, but if you are curious what exactly you could get from Santa, chances are that if it is a gadget, that would be a tablet.
And not just any tablet. A recent survey by Techbargains, found that first more than a half of all customers plan to purchase a tablet, and second, the most popular choice was the
Nexus 7
by Google.
The affordable $199 16GB tablet got nearly a third of the votes, slightly higher than the 30% who opted for a 9.7-inch
iPad
. Third ranked the newly launched
iPad mini
with 24% of the votes.
"With more tablets on the market to fit every size budget, our survey reveals consumers are even more interested this year versus last year in giving and receiving a tablet — the must-have tech gadget this holiday season,"
president and editor-in-chief of TechBargains.com Yung Trang said.
source:
Business News Daily