Nexus 7 32GB surfaces in Spain, price is €279
16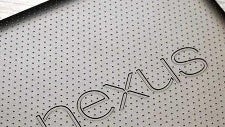 The
Nexus 7
is probably the hottest 7-inch tablet right now, but if you want more than the 8GB or 16GB of internal storage on it, you can't get it. That's about to change. Spanish online retailer Phone House has just listed a Nexus 7 32GB and it is priced at 279 euro ($360).
Right now, Nexus 7 16GB sells for 249 euro as well in Spain. It's interesting that Google has chosen to charge 30 euro for doubling the memory capacity. In Apple's case for example, with the iPhone and iPad, the company charges a ludicrous 100 euro, reaping a more than 90% margin out of that.
The problem with all those memory versions lies in the lack of expandable storage. While most Android tablets come with a microSD card slot so you can easily augment your memory by as much as 32GB, the Nexus 7 does not support that.
With that yummy price, and if it comes to the U.S., do you plan on getting the Nexus 7 32GB?
source:
Phone House
via
Android Authority