Nexus 5 first benchmarks surface: top-shelf performance
75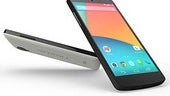 The Nexus 5 is out and so are the first performance tests. It is no secret that the Snapdragon 800 system chip is the exact same silicon powering the latest flagships including the Samsung Galaxy Note 3 and the LG G2. Just how powerful is the Nexus 5, though, and where exactly does it fit in the Android landscape? Only benchmarking can tell and what it tells is that the Nexus 5 is among the top performers out there.
The first official benchmark results measure CPU performance of the Krait 400 cores and there are four of them in Snapdragon 800. The test is Sunspider benchmark and Google's Nexus 5 scores admirably in the top places. Another test that confirms its speedy processor is Octane where the Nexus 5 scored a very high 3907 points, but sadly we could not compare the results from Octane with other devices as we can with Sunspider.

The first test we have the results from is the Basemark X benchmark. It is a stressful gaming test including particle effects, advanced lighting effects and post processing. The test is close to a real game (a very, very graphically intensive one) and is built on the Unity 4.0 engine.
Recommended Stories