Next-gen iPhone with LTE being tested in the UK
8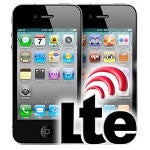 We're all expecting the
next iPhone
to feature LTE. It sounds like a no-brainer, right? Well, according to a new report by the Guardian, not only will the new iPhone have LTE in the US, but it will also have it in the UK.
This Tuesday, UK operator Everything Everywhere, or EE, announced plans to
launch its 4G LTE network
in a few weeks. This will be the UK's first LTE network, and the carrier promises that it's going to cover about 1/3 of the UK's population by the end of 2012. Now, here's the thing: EE's LTE network will use the 1800MHz spectrum, and according to an unnamed insider, Huawei, Nokia Siemens Networks and Ericsson (network equipment providers) are all testing the new iPhone with LTE on this very same band.
The proof of an LTE iPhone coming to the UK doesn't end here, though. Another source has reported that Apple has also registered its upcoming devices that will use this frequency with a special confidential database managed by the GSMA, the organization that represents operator's interests.
As always, Apple has desided to wait until it feels the moment is right to launch a new product, service or feature. We've had LTE in the US for some time now, but it was mostly Verizon. Now that LTE networks are a bit more mature, the iPhone 5 is coming to take full advantage of those blazing-fast speeds.
source:
Guardian