Next-gen iPhone and iPad may include OLED displays supplied by Samsung
99+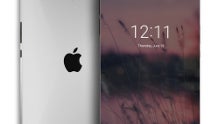 We've already heard rumors that Apple
may toy with OLED display
technology with next year's fleet of mobile devices. Where the company has stuck with LCD panels with the iPhone and iPad since their respective inceptions, the new Apple Watch wearable takes advantage of OLED tech, with LG said to be the sole provider of this feature. As per new murmurings out of South Korea, Apple could be planing to draft in the services of Samsung to produce displays for Apple Watch's sequel. Naturally, the same report speculates that OLED's influence may then branch out to the displays of the iPhone and iPad.
Despite their immense rivalry in the mobile business -- one that has frequently escalated into
battles in court houses
of the Supreme variety -- Samsung and Apple rely on one another significantly. In particular, Samsung has supplied numerous components of Apple's most famous products. In an ideal world, one suspects that Apple would prefer not to have such dealings with what is arguably its fiercest competitor in the business. But it's a two-way street, since Samsung makes a lot of cash by providing Apple with the hardware. This behind-the-scenes bond could continue to blossom through next year, if the ETNews coverage is anything to go by.
The iPhone and iPad offer LCD panels amid the sea of OLED panels that currently flood the market. Apple is said to be testing the latter, with a view to utilizing the technology with its next-generation products. No decision has apparently been made as yet, and since it's unlikely that Apple will start sounding off before the release of these products, we'll have to hope that this info is soon substantiated by more details.
(please note: image used is just a concept design)