Next Vivo phone might come with a 1/1.7'', 20.2MP sensor and a Nikon SLR chip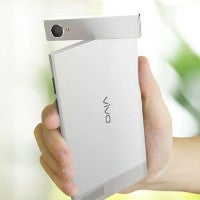 In a world where words such asSamsung and Apple have become synonymous for a smartphone, it's arough life for the many no-name brands that may not be particularlybad or even at all. In a growing number of instances, that seems to have a fair bit to do with the companies' lack of marketing "chops"(= money), when compared to that of the big guys. Especially in the Western hemisphere.
This same situation is quitedifferent in the East, however, which, most agree, will stage thenext clash for superiority in the industry. Relatively unknown brandssuch as Oppo, Vivo, Xiaomi, Meizu and others are just getting their namesheard, and it will probably be a longer while still, until you startspotting them in the mainstream. At the same time, those very brandsare generating waves in their home markets, and are already readyingquite a surprise for their behemoth, but laggard rivals.
One such brand is BBK. You'veprobably never heard of it, though you may have heard of Oppo and,recently, Vivo– currently holding the world's thinnest smartphone title with theX3. Oppo, along with Vivo, are both the brainchildren of BBK. Andthough it might take a not-too shabby nudge to get most to seequality under a name different than the prior-mentioned giants oftechnology, phones like the about-to-be-unveiled OppoN1 have been proving why they deserve attention.
So, after three paragraphs worth ofsetting the perspective just right, let's talk about the new rumorssurrounding Vivo's next flagship. According to a few official-lookingpromo renders posted on Vivo's forum, the next phone in the company'sline-up is about to jump on the now trending cameraphone bandwagon.That's courtesy of an alleged 1/1.7-inch, 20.2MP CMOS sensor, an apertureof f/2.0, and a Nikon EXPEED chip. If you have a trusty memory, thenyou've probably already figured out that these are someimpressive-sounding specs, at least on paper.
Not much else of note has yet beenrevealed, though there are exceptions. For starters, the pictures,found immediately below, were quickly removed from Vivo's boards. Thecompany's official stand is that while a new flagship is comingby the end of the year, these are just a random person'sconceptions. Of course, this doesn't really explain why theyshould bother the company enough to warrant what feels like a ratherover-the-board response. Having said that, we're by no means claimingthese represent an upcoming Vivo device, though that has more todo with the too-good-to-be-true camera than anything else – eventhough we know that BBK is capable of pulling off yet anotherhardware feat.
source: cnmo via mobilissimo