Next Pokemon Go feature will allow trainers to select a Buddy Pokemon
3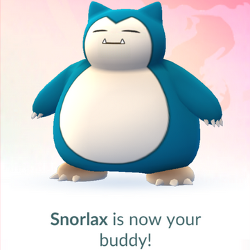 Game developer Niantic announced today that a new feature is due to be added very soon to Pokemon Go. Trainers will be allowed to pick one Pokemon from their collection and designate it to be their Buddy Pokemon. Trainers with a Buddy will be eligible to receive special in-game rewards and unique experiences. For example, trainers can receive Candy just for walking with their Buddy.
Buddy Pokemon get to appear next to their trainer on the latter's avatar. And if a trainer is unhappy with his Buddy Pokemon, a new one can be chosen at any time.
The new feature is coming after the launch of Pokémon Appraisal, which makes it easier for trainers to select the best Pokemon from their collection to battle with. Team Leaders will
tell trainers which of their Pokemon is most prepared for battle
based on individual value points.
Pokemon Go is still a work in progress; Niantic says that more updates are coming this fall. And while the bloom is off the rose as far as the game is concerned, Pokemon Go still has
raked in more than $440 million in revenue since its launch earlier this summer
.
source:
Niantic