Next HTC Windows Phone codenamed "Tiara," first post-Portico device?
25
On the heels of learning about
HTC's intentions to continue making Windows Phone
devices, even in the face of disappointing sales.
That is good news and it sets the stage to wonder what HTC might have in store for us. Well as it happens some specifications have leaked. The next iteration of Windows Phone by HTC, code named "Tiara" will be a bit more modest in nature.
For those wondering if it will follow the same design language as the newly announced HTC One, the rumor is that it will not. The Tiara will have the distinction of being one of the first Windows Phone devices running on the second major update to Windows Phone 8 (post Portico), referred to Windows Phone 8 GDR2 (General Distribution Release).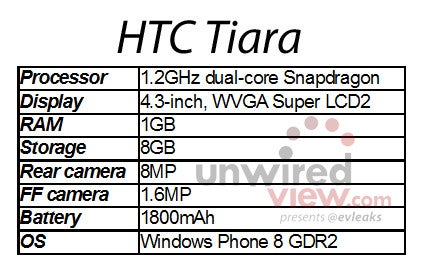 Spec-wise, it does not look like it will make you break out into any sweats, but that might make it more accessible price-wise. Tiara will have a 4.3-inch super LCD2 screen with 800x480 WVGA resolution. An 1,800mAh battery will be feeding power to a dual-core 1.2Ghz Qualcomm Snapdragon processor which will be more than capable to handle the smooth work of the operating system. 1GB of RAM and 8GB of storage will be on board, though there is no indication about microSD card support. The main camera is 8MP with a 1.6MP front facing camera.
We will see how these numbers hold up to whatever the final product looks like at launch, but what do you think? Does this strike you as the right direction to move a product line?
source:
Unwired View