Next Google Play services update will allow Verify Apps to monitor for malware in the background
11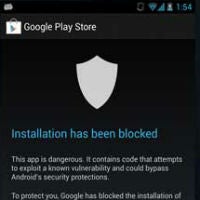 Google's Verify Apps service is one of the more important features of Android that many may not even realize exists. The feature serves to scan apps that are installed for malware, and Google has claimed that the feature is successful enough that only
.001%
of malicious apps even get the chance to cause harm. But, that isn't enough, Google wants to lower that number more with an update to Google Play services.
Word has it that in an upcoming update to Google Play services, the Verify Apps feature will be tweaked a bit to allow it to continuously monitor installed apps in the background and alert you at any time if an app turns malicious. Verify Apps works by checking for known expressions of malicious code when an app is installed, but some apps may not have that code present until after installation. For example, an app could download additional files after installation that could contain malware.
Of course, the update to Verify Apps should serve to catch those apps. And, because the update is coming via Google Play services, that means the update will be pushed out to almost 99% of the Google Android ecosystem in the background without any work by manufacturers, carriers, or users.