Next Apple Watch could help millions of diabetics test their blood by simply looking at the screen
7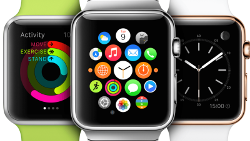 Diabetics have to measure their blood sugar several times a day in order to see if they need to take some insulin. This is accomplished by using a small needle called a lancet that draws blood. A drop of this blood is placed on a test strip and inserted into a machine called a glucometer, which analyzes the blood. Seconds later, a reading is flashed. Not only is this a painful process (imagine sticking yourself over and over again each day as if you were a Voodoo doll), it also is quite expensive as test strips are not reusable.
Past attempts to make a non-invasive glucometer failed. They ended up being so inaccurate as to endanger the life of the user. But
Apple has been working hard on a way to come up with an accurate system to monitor blood glucose levels
without having to use a blood sample. With 30 million diabetics living in the U.S. alone, coming up with this Holy Grail could prove to be quite profitable for Apple. The tech titan is believed to have come up with a solution that involves tracking a particular part of the body.
The Glucose monitor could be built into an interchangeable smart band. These bands could add new features to the Apple Watch without jacking up the price of the wearable. Adding a glucose monitor to the Apple Watch in this fashion could allow Apple to get FDA approval for such a new capability without exposing Apple's secrets to the competition. Other smart bands could include one with a built in camera, or one with a built-in juicer to extend the battery life of the device.
According to one source,"there's so much more they can and intend to do with the Watch." Much of this has to do with beefing up the capabilities of the Apple Watch when it comes to capturing and analyzing certain data related to the health of the wearer. That includes monitoring sleep. And Apple could give the Series 3 Apple Watch support for LTE connectivity.
Apple Watch Series 3 could be released later this year, and if Apple does perfect a way for diabetics to get a blood sugar reading 24/7 by simply looking at the display on the Watch, sales of the device could explode, especially if health insurance providers agree to cover it.
source:
BGR