New snaps of the white Sony Xperia Z1 (aka Honami) caught in the wild
47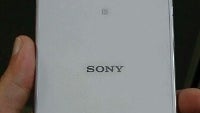 Sony's upcoming Xperia Z1, or theHonami, as most of you have probably come to recognize it as, hasbeen making rounds around the web for a while now, and nobody wouldcomplain if we had a little quiet before the storm. That, of course,isn't going to happen, for any measures Sony may have had in place tocounter information leaks like the one below appear to have beencompletely and utterly overpowered.
True Sony fans among you willalready know that we'reexpecting the Honami to come in at least three colors: black,white and purple. And while the purple unit remains elusive, we'veseen plenty of the black one, but not so much of the white, which isarguably more chic than the rest. Not to worry, though, for moreimages of the snow-white device have appeared from within the depthsof China.
Said new snaps aren't breaking newground, but they do provide a more exhaustive peek at the upcomingHonami, along with reaffirmation of a few key points of the device.Namely, the speaker on the Z1 will be significantly bigger than theone found on its predecessor, the Xperia Z, which should hopefullymean that blocking out the speaker will be a much tougher job.Moreover, the highly-anticipated camera unit on the device is, onceagain, confirmed to come with Sony's G lens, and a single LED flash(sorry folks, seems like a Xenon flash is out of the question). Anotherthing worth dotting down on your pad as you await the officialunveiling is that the Honami will be coming with a magnetic chargingdock, much alike the one found with the Xperia Z Ultra.
So, has the Honami pickled yourfancy? If yes, then you should probably make sure you checkthe rest of our related coverage here.
source: Digi-wo via XPERIA Blog