New rumor claims the next iPad won't launch until after the iPhone 5S
20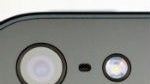 Surprisingly, things have been relatively quiet on the Apple rumor front since before Google I/O. Usually, there would be a fairly steady stream of leaks from Apple after big announcements like what we saw from Google last week, but that hasn't happened. If you've been jonesing for some Apple rumors, here's one for you: a Japanese site is now saying that the next iPad won't launch until after the iPhone 5S.
That would mean that the new iPad wouldn't hit the market any sooner than September, which is when we expect to see the iPhone 5S announced and launch.
Tim Cook
made it sound like Apple wouldn't be releasing any new products until the fall at the earliest, so this makes sense, but some were hoping that the new Apple devices might launch at the same time at least.
Additionally, Japanese blog
Macotakara
is saying that the next-gen iPad will feature a microphone on the rear of the device, next to the camera. This would be a design similar to that of the iPhone 5 (pictured in the article image above). The rumor says that Apple had considered adding this microphone to the iPad mini, but had scrapped the idea before finalizing the design.