New report says both 4.7-inch and 5.5-inch iPhones are coming "as soon as September"
54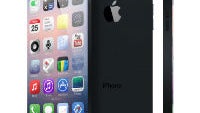 The rumor mill surrounding the next generation iPhone likes to cover all its bases. Some rumors will put the iPhone 6 release in the summer, while most say it will happen towards the end of the year. However, our standard theory is to assume that all iOS devices will be released in either September or October until we heard differently from Apple.
A new report from Nikkei says that manufacturers have already begun building the fingerprint scanners and LCD panels for the next generation iPhones. The interesting part isn't that it says that the 4.7-inch iPhone 6 is going to be launched "as soon as September", but that the 5.5-inch iPhablet will be coming around the same time.
There had been concern that the so-called iPhablet might not actually be released this year at all. The idea had been that Apple would be so focused on the iWatch and making sure it was done that other devices like the next gen iPads and maybe the iPhablet wouldn't make it out this year. Of course, September is still quite far off, so expect more rumors to contradict each other between now and then.