New preliminary HTC M8 (One 2) specs don't paint an exciting picture
63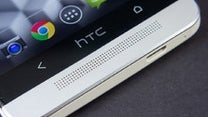 Here we are talking about the
HTC M8
again. As you may know, the handset could end up being called
HTC One 2
, since it's supposed to be the successor to the Taiwanese company's first 2013 flagship smartphone.
HTC might officially introduce the new device in February, but this remains to be confirmed. Until then, the latest bits of info regarding the HTC M8 come from @evleaks, and seem to reaffirm that the smartphone won't be as exciting as other rumored high-end handsets expected to be unleashed in 2014.
As things stand now, it appears that the M8 / One 2 will feature a 5-inch 1080p display, Android 4.4 KitKat with Sense 6.0 UI, a 2.1MP front-facing camera, an UltraPixel camera on the back, 2GB of RAM, and a quad-core Qualcomm Snapdragon MSM-8974 processor (apparently the 8974-AB model, if we're to believe a previously leaked benchmark). All this doesn't really make a strong impression - not when we're looking at the features of the original HTC One,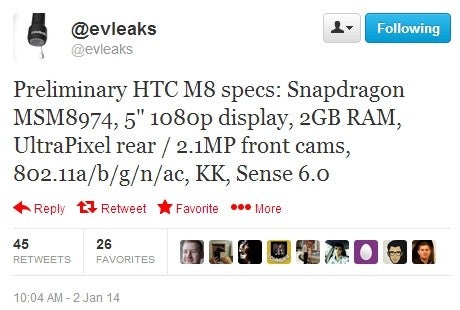 and especially not when we keep on hearing that Samsung and LG are readying
Quad HD
(1440 x 2560 pixels) flagships with 64-bit processors for 2014.
But perhaps HTC has some aces hidden up its sleeve? After all, a great smartphone doesn't necessarily have to offer the highest display resolution, and neither a power-hungry processor. Who knows, maybe Sense 6.0 will be the best UI ever - and that
could
make the M8 a hit. What do
you
think, can HTC be successful with this new handset, even if its features are the ones rumored until now?
source:
@evleaks