New photos show leaked iPhone 5 parts fully assembled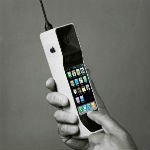 This is the sort of leak that we can get behind. It isn't a leak claiming to be the iPhone 5 itself, or a fake mockup posing as the real thing. This is just the leaked parts believed to be in the iPhone 5 fully assembled into a possible design of what the iPhone 5 may look like when it is released in a couple months.
The images come from iLab, which took the various leaked parts - volume keys, home button, faceplate, casing, etc - and assembled it all into what could be the body of a black iPhone 5. Unlike some previous leaks, the metal back on this build is the same color as the metal around the edges for a more seamless design. Still, it looks like an iPhone, and isn't a huge departure from what we've seen the last couple times out.
Of course, if we assume that Tim Cook is holding to some of Steve Jobs' tendencies, this could just be one of a few different possible designs for the next iPhone. That possibility seems to be less and less likely as each leak does show a very similar design.