New nano-SIM design chosen by ETSI
31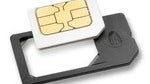 The whole
nano-SIM design saga
is over now that the European Telecommunications Standards Institute (ETSI) has come up with a decision on the matter. And the winner is... well, we don't really know for sure, but some say that
Apple's design has been chosen.
The nano-SIM design that has been picked is 12.3mm tall, 8.8mm wide, and 0.67mm thick. These dimensions match with the ones we see on Apple's blueprint, but this is also what we have on the revised drawings submitted by RIM and Motorola.
The new nano-SIM design is 40% smaller than today's micro-SIM standard, which was popularized by Apple and the iPhone. Shrinking the module would free up precious room inside of mobile devices for extra chips or extended batteries. It would also allow for the smartphones of tomorrow to be even slimmer. At the same time, nano-SIM cards will be
"backwards compatible with existing SIM card designs."
Official renderings of the chosen nano-SIM design will be published on the ETSI web page in the near future. Perhaps they will reveal which company's design was chosen at the end.