New look Apple Watch to feature LTE and "stand alone" capabilities?
12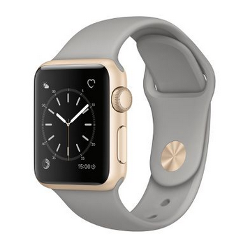 Bloomberg issued a report today saying that the next version of the
Apple Watch
will have the ability to connect to the internet without having to depend on pairing up with a nearby Apple iPhone. By the time that 2017 comes to an end, a new Apple Watch is expected to be available carrying its own LTE chipset; this will allow the new Apple timepiece to send/receive texts or follow GPS directions even if you accidentally leave your iOS powered handset at home. This version of the Apple Watch will contain all of the stand alone features that you were hoping to see from your Apple Watch from the very beginning of the device's birth.
With the new stand alone features, a new version of the Apple Watch will need to hook up with one of the wireless operators. The tech titan is said to be in talks with some of these carriers in the U.S. and overseas about selling a new Apple Watch. These talks alone could end up delaying the release of a cellular-connected Apple Watch past 2017. Bloomberg's report revealed that Apple had to delay a similarly equipped wearable last year. However, issues with the battery life of the product caused Apple to delay its release.
And those in the know have told Bloomberg that it will be chip giant Intel that will be providing Apple with the LTE modems required for the new Apple Watch to connect to the internet. This fall, WatchOS 4 will be available for the timepiece, with Siri responsible for carrying out more tasks including the dissemination of messages and reporting on the news of the day.
Three new Apple iPhone models are rumored to be unveiled later this year, including one that will feature 3D facial recognition for unlocking the device. The next Apple Watch series is likely to be announced at the very same event.
source:
Bloomberg