New iWatch concept is beautiful, but completely ignores reality
18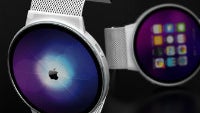 Look, we love concept renders as much as any tech enthusiast. The only thing we ask is that designers do a bit of homework before creating a concept for a new device. Unfortunately, very few designers bother to consider things like battery life or the best use case for a product. That lack of consideration is on display in a new iWatch concept render.
The concept is beautiful with a titanium unibody design, a circular display with "Retina display" (whatever that means), and chamfered edges. The strap is a rubber nylon mix that has a woven design for better breathability, and a "Mag-Twist Lock" rather than a normal clasp. Aside from the circular design, which doesn't make much sense for a smartwatch, all of that is okay.
Of course the concept quickly devolves into fantasy. We'll start with the "Retina display" which supposedly can show HD videos, and the 4G radio that would allegedly exist in this product. Those two things alone would mean that you are looking at a smartwatch with about three hours of battery life, especially given the size of it, because there is no way the battery is all that big. Even worse, the concept doesn't even bother considering the best use of a smartwatch, because it gives video playback, and if you check the app icons, there is Apple Maps, Game Center, and the camera app (though we don't see a camera on the device).
Even ignoring the rumors that Apple is working on a device with a flexible display and a focus on health tracking, this concept makes even less sense as a smartwatch as the Samsung Galaxy Gear. The general consensus right now is that the best smartwatch on the market is the Pebble, which features a black and white display, and a limited set of features. And, that limitation is exactly why it is the best. There are certain uses that make a smartwatch a great idea, but pushing too hard and adding features that don't make sense, quickly ruins the product. Of course, that's an engineering point of view, not a designer.