New iPhone rumor confirms 4G LTE connectivity, double the RAM and a built-in NFC chip
99+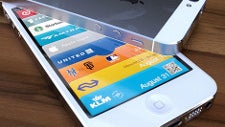 We've heard plenty of rumors about the next iPhone and those will only intensify as we approach the September-October time frame when everyone expects the new iPhone to launch. But one thing that probably isn't true is that the new iPhone is already in production.
The other thing is that we are once again hearing the the
sixth-gen iPhone will feature 4G LTE connectivity
and get a bump up from the 512MB of RAM memory on the current one to 1GB. Also, a near-field communication (NFC) chip will be built in the device.
An inside source for BGR revealed some interesting details around the whole process of an iPhone making it to retail shelves.
Allegedly, first iPhone go through a series of "engineering verification tests" (EVT), and once they clear those they enter the "design verification test" (DVT) phase. Only then, the handsets hit the production lines.
So, the new iPhone hasn't started production just yet, according to BGR's source, but it's entirely possible that Apple is making engineering samples.
Here's a couple of other interesting facts about previous iPhones as well:
The Verizon-branded iPhone 4 made it to the EVT2 phase in mid-November, hit EVT3 in the last week of November, and finally got to DVT2 at the end of December.
The iPhone 4 that was lost in a bar in San Francisco was actually in DVT stage.
But the big news is that we have one more piece of evidence that the new iPhone will have LTE, more RAM and NFC, and that's great, isn't it?
source:
BGR